I want to address a few tips when you first start to clip coupons. I have been doing this for a year now and I have made mistakes that cost me money instead of saving some. So I would like to share a few tips with you.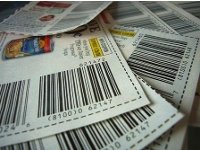 1. First don't try to start too big. You will feel excited and anxious when you first start but that's when we make our mistakes so take it slow. Don't overwhelm yourself by trying to grab every deal at every store. You'll burn out or get frustrated, or worse yet, confuse yourself and spend too much money.
2. Set a reasonable budget. When I started I would take my husband's change and challenge myself with about $5 in quarters, nickels, dimes and pennies.
3.Don't compare yourself to others. All families are different and have different needs. You won't have the same grocery budget as your sister or neighbor. I do coupon shopping for 4 families, my husband & I, my oldest son with his wife and 2 kids. Also my middle son and his wife and my daughter with her husband and their 3 kids. So I buy a big variety.
4. Gather your coupons together. PLANNING your shopping trip is the key to good coupon results.
5. Get coupons from your weekend paper, magazines, the internet and tear pads found in stores. Ask your neighbors if they don't use their inserts from the paper. (there has been many problems with people stealing inserts from the newspapers in the stores) You can be caught for shoplifting!
6. Look for the store coupons in the weekly ads. Most stores will let you stack coupons. Using a store coupon with a manufacturer coupon.
7. More and more manufacturers are posting coupons on Facebook. If you don't have facebook, you might want to get an account for these coupons. Many hot coupons can be found there.
8. It takes time to get your strategy together. Don't expect to do it in 30 minutes a week. There are lots of websites that can help you match up your coupons with the store sales.
9. When you start don't take on to many different stores to coupon at. Focus on 1 or 2 stores to start off. It gets too confusing.
10. One tip I find to be very helpful is laying out your coupon with the product at the cash register. I know it's always nice to see your total before coupons and after. But if your coupon is with the product, it will save you and the cashier alot of time. I always tell them that I want to make that I am using the right coupon with the right product. Makes it so much easier all around and yes for the long line behind you.